Official Work Summary
Saturday, October 1, 2016
Crewmembers on board:
Chief Mike, Dave, Larry "Ski," Frank, Jaime and Tracey.
It was almost like a Saturday Field Day at sea…
Maintenance:
• Dave started deep cleaning in the Conning Tower in preparation for restoration work. He vacuumed and de-greased the floor and surfaces. The floor's padding will require more work.
• Chief Mike re-lamped the boat as much as was possible as the supply of fluorescent bulbs would permit.
• Chief Mike and Tracey polished brightwork on the boat. Tracey polished the brightwork on the rudder hydraulic pump motor [photo] in the After Torpedo Room and Control and silverware in the Wardroom. She also worked on brightwork on the bridge. Chief Mike polished in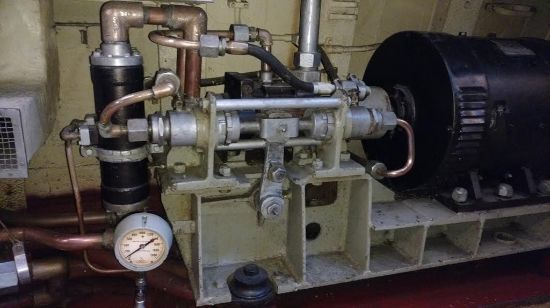 Maneuvering and engine rooms.
• Tracey vacuumed debris from the Conning Tower ladder water way.
• Ski repaired security hardware in Forward Battery.
Restoration:
• Rob and Tracey discussed painting plans for the Forward Torpedo Room.
Facts of note:
The Belfort Barometer barometric pressure in the Conning Tower was 30.1 inches.
Hours for the week:
27.
Hours for the year:
751.