Torsk Volunteer Association
Official Work Summary
Saturday, July 2nd, 2016
Crew on board:
Chief Mike, Frank M, Dave T., L Al F, Cathy, Jaime and brutal humidity.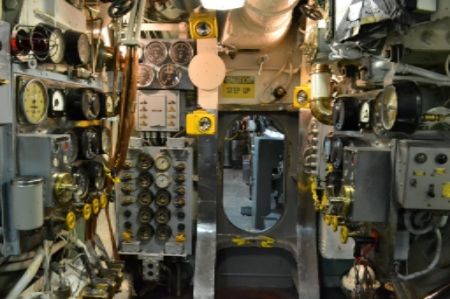 Maintenance:
• Dave replaced several florescent light bulbs, including the hard-to-reach one above the evaporators.
• Chief Mike, Frank and Rob examined the after emergency buoy, which had come loose. They determined that bolt that held it on and the straps that secured it are all victims of the ravages of time. They decided that some turnbuckles and some hooks would secure it in the cowling in which it sits. Dave was volunteered for the parts-run detail.
• Chief Mike and Rob worked on the latch on the door to the sail, which – for some unknown reason – has become difficult to operate. The door has three grease fittings, one of which works. Using that one has temporarily fixed the problem.
Restoration:
• Chief Mike is still working on the power supply to the RBS. He got the defective capacitor out and prepared the wires for ring lugs (the new capacitor has terminals for crimp-on ring lugs, the old one had solder terminals). He'll work on securing the new materials next time.
Total Volunteer hours:
• For the week: 13.
• For the year: 477.