Torsk Volunteer Association
Official Work Summary
Saturday, April 30, 2016
Crew on board:
COB Derouin, Chief Mike, Jaime, "Deer" John B, Newcomer John Sheils, and Dave T.
Maintenance:
• Deer John B repaired a battle lantern and helped Dave remove equipment relating to the old, non-functional emergency lighting system. As this former system was hard-wired, removing all of it will take more time and effort than one day provides.
• Dave re-lamped the boat, where necessary and repaired some fluorescents.
Restoration:
• Chiefs Bill and Mike worked on the volume capabilities of the RBS HF receiver. They replaced a resistor, which helped, but the source of the problem, ultimately, was the power cord. The radio works best when the power supply is screwed in loosely, rather than tightly. They will examine this situation further.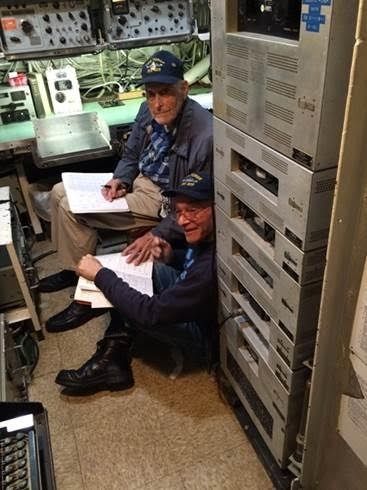 All Hands! Now Read This:
• Torsk's inspection by NAVSEA is coming up on the 14th. Thanks to Rob's dedicated work, and some of the work accomplished on the recent overnight work session, the boat looks good, but there is always work to be done, especially since we will not be on board that day.
• The Torpedo tubes still need a lot of work. Don't hesitate to grab a rag!
Total Volunteer hours:
• For the week: 32.
• For the year: 340.