Torsk Volunteer Association
Weekly Summary of Work
September 12 2015
Crew on board:
COB Bill, Dave T, Chuck W, Cathy S, John B, Michelle F, Kevin F, Larry "Ski," and Tracey J.
A rainy day in Baltimore limited nearly all activities to the interior of the boat but not before the Volunteers got a chance to admire Rob's fine work chipping and painting the starboard side of the boat. The epoxy paint looks great. We've never seen the boat look better.
Maintenance:
1) Dave began repairing the 20W fluorescent light in the Forward Engine Room that is out of commission.
2) Dave installed new red lamps in Sonar.
3) Chuck – with Ski's help - rehung bunks in Crew's Berthing that had fallen off their hinges.
4) Chuck swept and vacuumed Crew's Berthing under the bunks.
5) Cathy and Tracey conducted general house-keeping in Crew's Mess. Tracey also wiped down the floor and conducted general house-keeping in the Galley and around the water tight door.
6) Dave replaced the blown fuses for the outlet circuit in the Forward Torpedo Room.
7) Tracey wound clocks in Radio and the Wardroom.
8 John B and Dave re-lamped the boat.
9) Kevin conducted house-keeping in the After Torpedo Room.
Restoration:
1) TORSK veteran, Chuck Weaver, worked on the measurements for the proposed After Battery Medical Locker display in Crew's Berthing. This project continues Chuck's focus on Crew's Berthing, which began with his regular maintenance and cleaning of the area after overnight sessions and then expanded to the creation of the popular bunk locker display and the peacoat locker display.
2) Cathy, Michelle and Tracey polished the VJ Day trophy with vinegar. The good results were amazing. Soon, it will be ready to put in the display case in Crew's Berthing.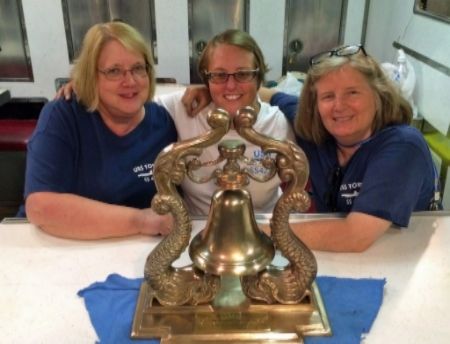 3) Chief Bill, Ski, and John B worked on getting the light in the MK-19 Gyroscope going and other restoration issues in Control.
4) Chief Bill and John B sorted fuses and organized the electrical supplies in Plot.
5) Dave removed the port side TORSK name plate for restoration.
Total Volunteer hours:
• For the week: 32.
• For the year: 76.5.